Reading Body Trucks: Making Work Simpler for 60 Years in Okarche, OK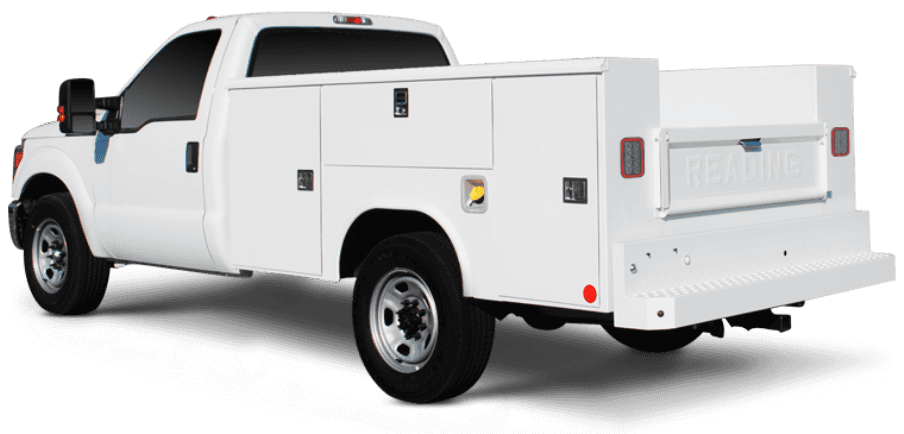 To say that Reading Body Trucks is a master of one trade would be somewhat disingenuous. Certainly, what has made Reading Body one of the work industry's top suppliers of truck bodies for more than 60 years is its commitment to building the best truck bodies that money can buy. Reading Body itself boasts about the importance of doing one thing and doing it well, but because of the versatility of its offering, does much more.
A look at the lineup
Whether your needs are for a steel or aluminum truck body, Reading promises "no body better." Reading's offerings can be broken down into the categories of service bodies, enclosed bodies, dump bodies, platform and landscape bodies, utility service bodies, and even custom bodies. Within those categories there is a wide variety of different products; for example, Reading's industry-leading service bodies are offered in both aluminum and steel construction, as well as in the Cranemaster option, and each variation is offered with multiple models to accommodate different lengths and performance capacities.
Reading's trucks are ideal for those working in the utility, oil and gas, HVAC, telecom, landscaping, and constructions industries. If it is a job that requires a truck, there is a Reading Body product perfect for it.
The Master Mechanic™ Series
At the apex of Reading's product line is the Master Mechanic™ Series, which provides the best value arguably of any product on the market. These truck bodies are the result of more than 40 years of fine-tuning, offering customers in need of service bodies or crane bodies with more standard features and benefits than the competition as well as unparalleled ruggedness and durability. The Master Mechanic/Lube combination body is offered with standard features unmatched by any other similar truck body in the industry, including a 100-gallon diesel tank, 100-gallon EVAC tank, and three 60-gallon product tanks.
The industry's best warranty
In addition to more than a half-century of wisdom and know-how, Reading Body products benefit from the peace of mind provided by the best warranties available. Depending on the product you choose for your business needs, Reading products are protected by a three-, five-, Six-, or ten-year limited warranty that ensures your complete satisfaction. Reading Body stands by its products wholeheartedly, and the willingness to protect its truck bodies so thoroughly is proof enough of its confidence.
Reading Body has not been a name on the lips of fleet and commercial truck customers in America for more than 60 years by sheer circumstance. It has achieved its position as standard-bearer by working hard to ensure that your hard work is a little less laborious than it has to be. Visit your Reading Body distributor and enjoy the benefits of the industry's most durable, rugged, and polished truck bodies.