Meet Our Staff
Back in 1973 a guy named Jimmy Carter started a Chevy Dealership in Okarche, Oklahoma. No, not that Jimmy Carter. This Jimmy never ran for President or farmed any peanuts. Everyone just called him Carter and he found his mission in life – Making Friends, Selling Cars, In That Order. Well since then we've continued to carry on his mission to help friends like you. Although Carter focused primarily on Fleet & Commercial Truck Sales for over 40 years, in 2014 we decided to focus on Internet Shoppers like yourself without changing our mission or the way we do business. We don't make a fuss, we don't play good cop / bad cop, and you'll never find us trying to strong arm you into making a deal. Let's be honest, it's a different way to buy a vehicle, right? We've assembled a great team, your new friends, to help us take care of customers like yourself. We thought you might like to meet 'em, so take a good read and reach out to one of our team members – your new friend today.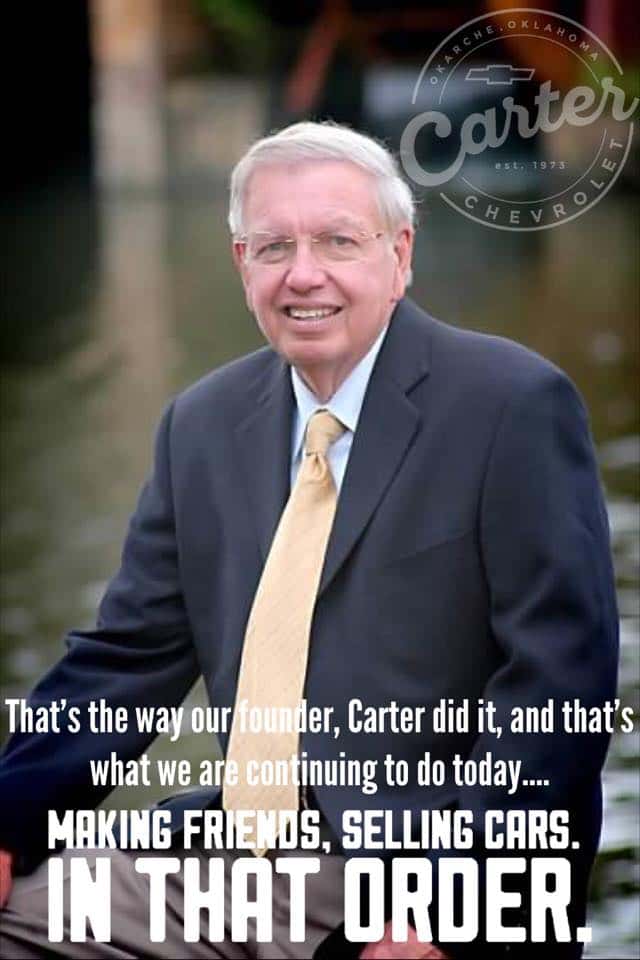 What's just as versatile, varied, and thoughtfully laid out as the Chevrolet lineup? The staff at Carter Chevrolet, of course! Buying a vehicle from Carter Chevrolet is about more than just looking on your own. Our staff is filled with fun folks who love their jobs, know their stuff, are chock full of personality, and always have your back when you've got questions.
Take Kurt, for instance. As one of our sales consultants, selling cars is one of his favorite things — that and catching really big fish. Kurt can answer your questions about fishing just as well as he can answer your questions about that Chevy you have your eye on when he shows you around the Carter Chevrolet lot. No matter the topic, Kurt's sure to fix you up with a prime, photo-worthy catch.
Speaking of prime catches, our little pond is stocked to the gills with the best sales team this side of Glengarry Glen Ross (except, you know, with 1,000 percent more fried chicken and at least 75 percent less cussin'). At Carter Chevrolet, you're in good hands whether you wind up with Trevor, our resident pretzel-maker and thespian extraordinaire; Jhett, who can thread the needle-like Baker Mayfield and has a better winning record in sales than that football team in Cleveland; or Marvin, who will make you laugh before he makes you a sweet offer on a new Chevy.
Jason Leck

General Manager / Janitor

More Info

Mike Kurtz

Finance Manager

405-263-7252

Email Me

Marvin Preston

Sales Consultant

405-816-4851

Email Me

Jhett "Baker Mayfield" Broomfield

Sales Consultant

405-655-0958

Email Me

Dougie "Fresh" Stephens

Finance Manager

405-263-7252

Email Me

Josh Henderson

Sales Consultant

405-492-8455

Email Me

Nick Hallmark

Sales Consultant

405-509-4222

Email Me

Mackey Battista

Sales Consultant

479-530-2423

Email Me
If you're shopping after hours, you'll probably end up talking to Andy. Andy's a bit of an anomaly — we're not entirely sure he sleeps because he's always working to make sure our customers have the best experience possible. Is he a cybernetic organism? A timeless being who has transcended the concept of sleep? A super-realistic hologram? We dunno, but we love Andy and so do our customers.
But, wait! That's not all. If you love awesome dudes, awesome beards, and awesome dudes with awesome beards, we've got plenty. Have you met Kevin? He's not just one of our best sales consultants, but he's also our Professional Hugger (side note: he hates hugs, so you should definitely try and hug him). Then there's Shane. We call him Big Country, but it's not because he loves that Scottish rock band from the '80s. (He might, but we haven't thought to ask.) When you get a load of Shane and his magnificent beard, you'll understand why.
Carter Chevrolet's collection of beards wouldn't be complete without Jason, our country-music loving General Manager. He's a local boy with a heart of gold, he's a proud soccer dad, and he sure does love a slice of pepperoni pizza from time to time. He's so versatile that he even cleans the place up for us!
Presiding over our stable of bearded and non-bearded sales consultants is Grant, who's also an accomplished unicorn trainer. Seriously. Ask him about it. Guy's magical, and you feel that magic whenever he works with you to set up a test drive or fix you up with the right sales consultant. Just don't expect to see him wearing anything glittery or carrying a wand. (He does take requests.)
When it comes time to put down your hard-earned money on that sweet new Chevrolet, you'll be working with our finance managers Doug and Mike. They want to make sure that you keep riding that wave of positivity right up to and after signing on the dotted line, so they'll work their butts off to get you the best deal out there.
Whether you're reaching out to us via the vast internet or stopping in to meet these Oklahoma boys in person, you're guaranteed to get the best and most sincere attention during your car shopping experience. At Carter Chevrolet, we're not a bunch of uptight or unapproachable salespeople. We're just a bunch of good ol' Oklahoma boys in shorts who love talking cars and eating fried chicken. When you come into our dealership, we don't want you to feel like the wolves are closing in. We want you to feel like one of our friends — because once you walk through that door, that's exactly what you are. Stop in at Carter Chevrolet today to learn about fishing from Kurt, try one of Trevor's delicious pretzels, see what Chevrolet can do for you, or, heck, just say hello.
Ok, so we are car salesmen, not actors.
Check us out in our acting debuts anyway.
We hope you enjoy… at our expense.