Meet Our Staff
Back in 1973 a guy named Jimmy Carter started a Chevy Dealership in Okarche, Oklahoma. No, not that Jimmy Carter. This Jimmy never ran for President or farmed any peanuts. Everyone just called him Carter and he found his mission in life – Making Friends, Selling Cars, In That Order. Well since then we've continued to carry on his mission to help friends like you. Although Carter focused primarily on Fleet & Commercial Truck Sales for over 40 years, in 2014 we decided to focus on Internet Shoppers like yourself without changing our mission or the way we do business. We don't make a fuss, we don't play good cop / bad cop, and you'll never find us trying to strong arm you into making a deal. Let's be honest, it's a different way to buy a vehicle, right? We've assembled a great team, your new friends, to help us take care of customers like yourself. We thought you might like to meet 'em, so take a good read and reach out to one of our team members – your new friend today.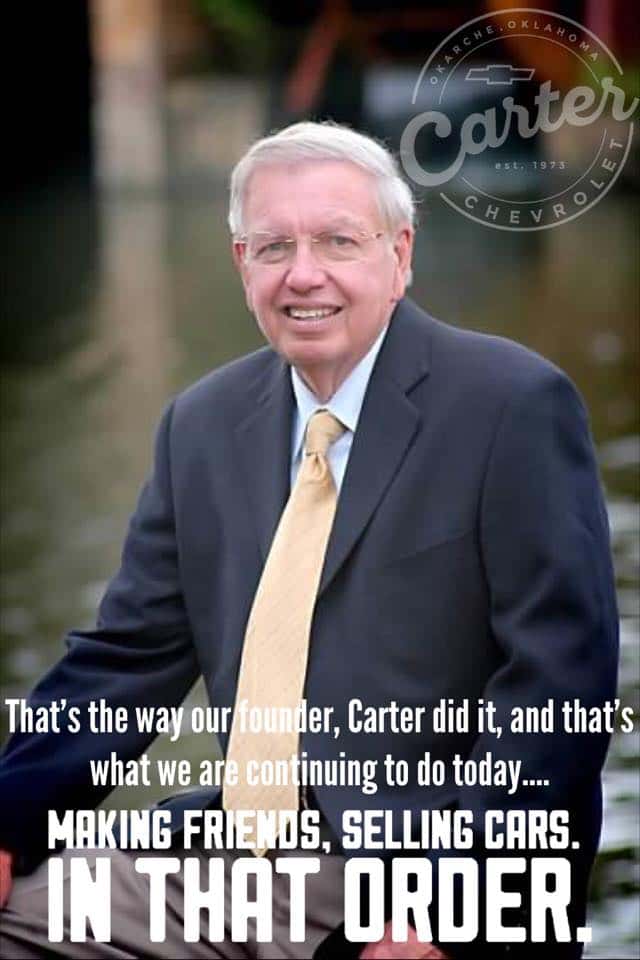 What's just as versatile, varied, and thoughtfully laid out as the Chevrolet lineup? The staff at Carter Chevrolet, of course! Buying a vehicle from Carter Chevrolet is about more than just looking on your own. Our staff is filled with fun members who love their jobs, know their stuff, and are full of personality.
Jason Leck

General Manager / Janitor

More Info

Mike Kurtz

Finance Manager

452637252

Email Me

Kurt (Neo) Anderson

Sales Consultant

918-693-7355

Email Me

Shane "Big Country" Jansson

Sales Consultant

580-823-8106

Email Me

Jhett "Baker Mayfield" Broomfield

Sales Consultant

405-655-0958

Email Me

Dougie "Fresh" Stephens

Finance Manager

405-263-7252

Email Me
Take Kurt, for instance. As one of our sales consultants, selling cars is one of his favorite things—that and catching really big fish. If you're at Carter Chevrolet and like to talk fish, make sure you find Kurt who can answer your questions about fishing just as well as he can show you around the Carter Chevrolet lot. Our other sales consultants on the team include the pretzel-making Trevor, country-loving Jason, and Andy, who is often available at wee hours of the night to answer your questions via emails directed to Carter Chevrolet. So, whether you're reaching out to us via the vast internet, or stopping in to meet these Oklahoma boys in person, you're guaranteed to get the best and most sincere attention during your car shopping experience.
To aid in that, finance managers Doug Stephens and Mike Kurtz are here to save the day and sure to find the best possible financing rate for each individual. Grant Ransom, our sales manager, works hard by their side and will help you arrange test drives in your next Chevrolet vehicle, or introduce you to one of the best sales consultants around. At Carter Chevrolet, our staff isn't a bunch of uptight or unapproachable salespeople. We're just a group of down-to-earth car fanatics in shorts who can't wait to show you what Chevrolet can offer. We want to be your friends as much as we want to be the employees at your favorite dealership. Stop in at Carter Chevrolet today to say hello, learn about fishing from Kurt, and try one of Trevor's delicious pretzels.
Ok, so we are car salesmen, not actors.
Check us out in our acting debuts anyway.
We hope you enjoy… at our expense.