Oil Change Service in Okarche, OK




How An Oil Change Works
Engine oil is the backbone of your vehicle, lubricating the many working parts inside that tend to heat up and cause friction. With fresh, clean engine oil, you can ensure that the mechanical pieces of your car will function properly, without accumulating damage.
As you drive and with time, engine oil begins to wear down, get dirty and becomes less effective. This means that all of the gears and parts in your car are starting to rub against each other, abrasively, leading to erosion and possibly even causing the vehicle to fail.
With this in mind, it's important to follow the guidelines in your owner's manual concerning how frequently you should change your engine oil. The standard time frame for oil changes is every 7,500 miles or so, though you may want to get yours changed more or less frequently, depending on the type of driving that you do.
Thankfully, changing your oil is easy to do and can be done at home with the right tools. In short, all you have to do is jack up your car, remove the oil plug, wait for the old oil to drain, replace the oil filter, replace the plug, add the new oil, and replace the cap.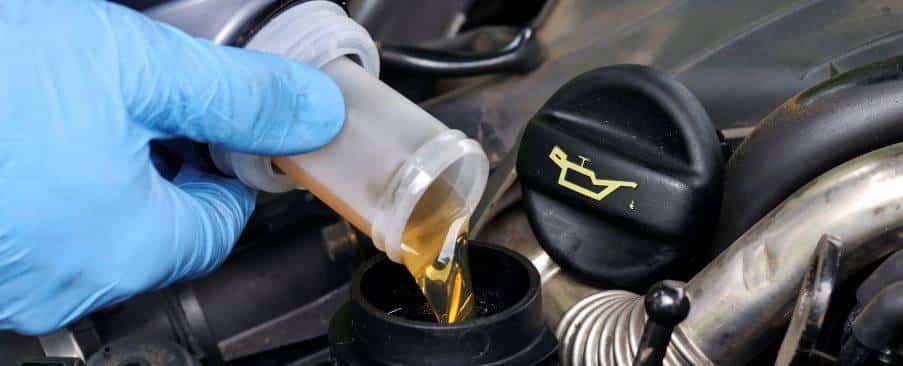 Types Of Oil
If this sounds intimidating to you or if you want to learn from a professional, we definitely recommend calling your local dealership's service department (we have one right here at Carter Chevrolet), to ensure that it's done correctly.
Lastly, you may be confused about the two types of oil: synthetic and conventional oil. Synthetic oil has been purified and distilled, which leads to superior performance, though not all vehicles can use it.
Which type is right for you? Consult your owner's manual or the manufacturer to determine which type will provide the best possible performance in your car.
To learn more about an engine oil change or to meet with someone in our service department, Contact us or give us a call anytime, here at Carter Chevrolet in Okarche, OK.
For All Your Other Service Needs