Dare to Compare: 2021 Chevrolet Blazer vs. 2021 Jeep Grand Cherokee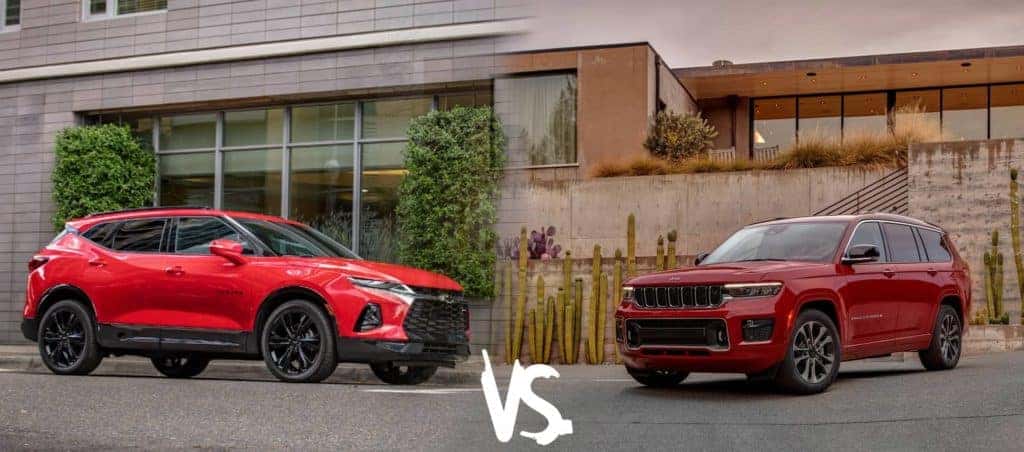 Thinking about getting a 2021 Jeep Grand Cherokee? Okay. What if we told you that you've got another option that's more affordable, more versatile, and just flat-out better looking? And what if we sweetened the pot a bit and told you that you can get it at Carter Chevrolet in Okarche, Oklahoma — home of some of the friendliest, beard-havingest car dudes around? We're talking of course about the new 2021 Chevrolet Blazer, which torches the Jeep Grand Cherokee in some key areas.
Price
We're not talking a dinky difference of a couple hundred bucks here. The 2021 Chevrolet Blazer, with an MSRP comfortably below $30,000, is a much budget-friendlier option than the Jeep Grand Cherokee. There's a difference of well over $5,000 between the starting price of the Grand Cherokee and the Blazer.
What that also means is that you can upgrade to the Blazer 2LT — with its hearty 2.0-liter Turbo four-cylinder and standard Chevy Safety Assist — and still pay less than you would for the Jeep Grand Cherokee Laredo E. Think of all the fried chicken you could get with the money you have leftover.
Space
When you're in the market for a two-row midsize SUV, passenger comfort has to be one of your top considerations. You don't want to get a new ride for the whole family and immediately have to hear about cramped seating and how little Billy won't stop putting his finger in Bobby's ear. Okay, so there's not a lot the 2021 Chevy Blazer can do to help with that second one, but it can help with the spaciousness thing.
With 107.8 cubic feet of passenger volume, the 2021 Chevrolet Blazer has more overall space for people than the Grand Cherokee. You'll also get more legroom in the first and second row with the Blazer, meaning you have more space to stretch out. More like not so grand, are we right? Are we right?
On top of this, just look at the 2021 Chevrolet Blazer. Look at how athletic and aggressively styled it is. Think of all the fun that you could have in a Blazer. And, boy howdy, you certainly will have a lot of fun in a Chevrolet Blazer after you pick one up from Carter Chevrolet in Okarche. Call or email to learn more about this awesome SUV and we'll hook you up with a test drive.