Cadet Truck Bodies In Okarche, OK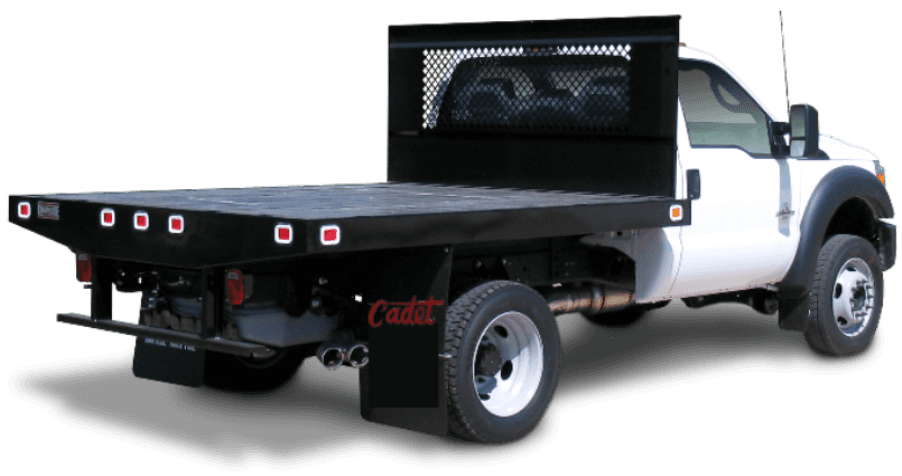 Work, like so many other things in life, is about evolving. Work must be done smarter and more efficiently to maintain the continued quickening of the world's pace. To accommodate that need, today's work trucks must have a similar mind of intelligence and efficiency. Enter Cadet Truck Bodies, which has worked since 1973 to continually improve its product line in order to make the work of blue-collar men and women all across America just that much easier to get done.
Today, Cadet Truck Body offers nine standard truck body models, all of which are built using high strength steel and feature standard LED lighting.
Bronco
The Bronco comes standard with 12-gauge tread plate floor, 3-inch formed channel cross-members, all-weather undercoating, and weatherproof wiring harness. For improved versatility, this flatbed is offered in three different model lengths—84 inches, 102 inches, and 108 inches.
Western
The Western is one of Cadet's most versatile models, offered with sixteen different length and width combinations. Each Western comes standard with features like a 40-inch tapered header with sunshade and 1/8-inch nominal tread plate, as well as available options like 7-inch steep, 5-inch long sills, and a square header.
El Dorado
Offered in six different models, the El Dorado comes standard with a gooseneck compartment with a 30,000-pound capacity hitch ball. The El Dorado's sharp look comes from mitered rear corners, 4-inch hinged side boards with board brackets, and a 40-inch heavy duty header with sunshade.
Steel City Stakes
For jobs that require additional security, Steel City Stakes truck beds come with extruded 19-gauge slats, 14-guage posts on 24-inch centers, and a spring-latch lock.
Aztec
The Aztec is offered with vertical, horizontal, or small boxes and four different bed sizes. Standard features include a seven-way plug, 3-inch structural channel cross-members, 4-inch structural channel long sills, hinged tailgate, and aluminum trim.
Laredo
With six different bed length and width combinations and available for both single and dual rear wheel trucks, the Laredo covers a number of bases with durability and a simple-yet-effective design. The Laredo is distinguished by 21-inch smooth steel skirting, mitered rear corners, aluminum trim, and a gooseneck compartment with a 30,000-pound capacity hitch ball.
Phoenix
To accommodate any variety of needs, the Phoenix flatbed is offered with 1/8-inch or 3/16-inch smooth or tread plate floor. Phoenix models are offered with a number of unique headers, including a 40-inch City Stake header; 36-, 42-, or 52-inch solid 10-gauge headers, and 16-inch by 20-inch or full-width plasma cut windows.
Metro
The Metro is perhaps Cadet's most rugged model, offered in either 9- or 12-foot lengths to accommodate just about any job. The Metro is offered with a smooth 10-gauge steel floor and comes with 3-inch structural channel CM on 12-inch centers and 5-inch structural channel long sills.
Grassmaster
Specially catered for landscapers, the Grassmaster is offered in 16 different models and 10 different bed lengths. Its 17-inch expanded metal hinged sides, dovetail with expanded metal overlay, and expanded 24-inch by 24-inch metal storage compartment make the Grassmaster perfect for those whose work involves groundskeeping or gardening.
Whatever your needs may be, Cadet Truck Body has a product to help you do the job right the first time. See your nearest Cadet distributor for more information.